Tomorrow is World Elder Abuse Awareness Day. In New Zealand, about four cases of suspected elder abuse are reported each day. But hundreds of other older people are too afraid to speak out about the abuse and neglect they are enduring daily.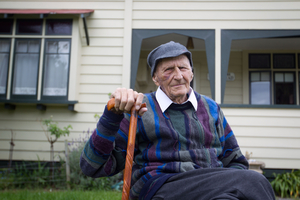 Elder abuse is said to be rampant in New Zealand but only 16 per cent of cases are reported, meaning many older people are suffering silently - and mostly at the hands of those supposed to be caring for them.
More than 1600 allegations of elder abuse are reported each year - that's more than four a day. But elderly advocacy organisation Age Concern says that is just the tip of the iceberg.
"It is a serious national issue. Too many people are being abused," chief executive Ann Martin said.
Elder abuse is defined as "a single or repeated act, or lack of appropriate action, occurring within any relationship where there is an expectation of trust, which causes harm to an older person".
Many cases reported in New Zealand involve more than one form of abuse.
Most (62 per cent) involve psychological abuse. Up to half have an element of financial or material abuse, including the theft of money or property.
About 20 per cent involve physical abuse, and a further 20 per cent are of people being neglected.
After studying a decade of confirmed elder abuse cases, Age Concern was able to ascertain that 70 per cent of victims were women and up to 80 per cent of offenders or abusers were family members - half of those the victims' adult children.
"Fortunately most families are very good to their older people, but we see the rotten eggs, we see the bad ones," said the national co-ordinator of elder abuse and neglect prevention services, Louise Collins.
"We are finding out more about it. It's rampant in families; that's what we're seeing more and more. That's the one that's going to get worse.
"Because it's usually family members who are doing the abuse, the older people are pretty stoic and they are reluctant to dob in their relatives. They may also be ashamed or feel guilty it's their own children doing it."
Ms Collins said Age Concern often dealt with cases where elderly people were stopped by their families from getting much-needed medical or rest-home care, which might reduce the inheritance the relatives might get later.
Other examples included a man suffering dementia who was regularly tied to a chair when his wife went out of the house. She felt it was "okay" to tie him up due to his confused mental state.
• Another woman was punched repeatedly by her grandson whenever she refused to give him money.
• A 75-year-old woman gave her daughter-in-law her credit card to buy a new fridge for her. The daughter-in-law also used the card for a $6500 gambling spree. After she was caught, she promised to stop, but a year later stole the woman's eftpos card and withdrew thousands of dollars to further fund her gambling habit.
• A 79-year-old - housebound due to health and mobility problems - got into considerable debt when her daughter mismanaged her finances, meaning she had no money to pay for her medication.
The daughter was also physically abusive and used "intimidation tactics" to control her mother. One night, police were called to the house and found the pensioner on the floor with a head injury after her daughter had assaulted her.
"People treat the elderly as if they do not count. They are not valued," Ms Collins said. "We live in a climate where older people are not respected, which creates the opportunity for people to abuse them."
She said the aim of this year's World Elder Abuse Awareness Day was to promote respect.
"Always respected, never abused - that's what we're targeting."
Police national crime prevention manager Superintendent Bruce Bird said the elderly were targeted because they were "particularly vulnerable".
"It's a sad part of the world, unscrupulous people out there preying on them."
Mr Bird said it was important for people to really look after their elderly relatives, check on them regularly and make sure they knew who was visiting them and where their money was going.
"What you need to be doing is asking the pertinent questions about what is happening and don't be afraid to challenge people. Take an interest, ask those questions."
It was also important for elderly people to speak up if they thought they were being abused in any way - regardless of how embarrassed or foolish they felt asking for help.
"You're going to have to put that aside and provide for the greater good, show this up. It will take a lot of courage ... You may or may not feel bad about it, but we want to stop these people from continuing what they are doing.
"The more you hide or turn a blind eye, the more you allow the offenders to prosper and continue."
The Ministry of Social Development's general manager of older peoples and international policy, Sacha O'Dea, said the great majority of elder-abuse cases went unreported.
"There are many reasons for this. Older people may not want to admit that they are being abused by family members, especially if they are dependent on them. They may fear a loss of financial independence, stigma, or consider that they are somehow to blame," she said.
"It appears that elder abuse and neglect, particularly financial abuse, is increasing. This may be due to a number of factors such as the growth in older age groups, as well as growing numbers of people affected by dementia.
"Other reasons may relate to income and wealth disparities and a high proportion of assets being held by older people.
"Older people are still more likely to own their home mortgage-free, whereas many younger people are finding this harder to achieve. At the same time, increased longevity means that inheritance is delayed."