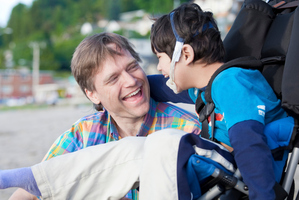 The Law Society has raised serious concerns about controversial new legislation which would prevent carers of disabled family members from taking legal action.
The Budget day legislation, passed under urgency in a single day, allows some carers who look after highly disabled adult family members to be paid the minimum wage.
But the law also prevents carers from seeking a judicial review in the future.
Law Society president Chris Moore has written to Attorney-General Chris Finlayson to express its concern with the limits on taking legal action against the Government.
He said the Attorney-General had quite rightly advised that the limits on judicial review could not be justified under the Bill of Rights Act, but the legislation was passed regardless.
"Ousting the jurisdiction of the courts is a step Parliament should only consider in truly exceptional cases, where there is compelling reason to do so, and it should be able to be rigorously debated."
Mr Moore was concerned that the law was passed in a single day, under urgency, and without the benefit of select committee scrutiny, public submission or informed debate.
"No reasons have been given as to why this was necessary," he said.
"There are constitutional implications here of which all New Zealanders should be aware. Not allowing the courts to review decisions made in exercise of a legislative function and refusing to provide reasons for rushing the legislation through is quite alien to the expectations we have of our parliamentary process."
The law change followed a Court of Appeal ruling that found carers of disabled family members were being discriminated against by not being paid for their work.
Some carers will now be paid from October at a cost to the Government of $23 million a year.
The Green Party has also expressed concerns with the law, saying it was designed to stop payouts rather than assist families.
- APNZ