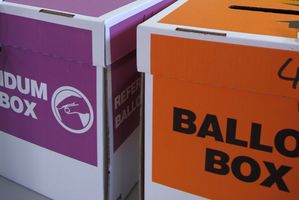 Support for Labour has taken a slide while National has picked up support in the wake of this year's Budget, according to a new poll.
The Fairfax-Ipsos poll, published in Fairfax newspapers today, shows support for Labour fell by 4.4 percentage points to 31.9 per cent.
National picked up slightly more support than Labour lost, with a 4.5-point lift putting National's support on 49.4 per cent.
The poll, taken in the week following the Budget, puts National in a much stronger position than the February poll, when left and right were almost evenly matched.
Based on the poll results, National would pick up 63 seats in Parliament if an election was held today - enough to govern without support partners in a 124-seat Parliament.
Labour, the Greens and Mana would muster only 56 seats among them.
Support for the Greens remained steady on 11.2 per cent, up half a point, while New Zealand First and the Maori Party also made modest gains, with 3.2 and 1.6 per cent support respectively.
The Conservative Party had 1.6 per cent support, United Future had 0.3 per cent support and Mana and Act had 0.1 per cent support each.
The poll of 863 decided voters also showed confidence in the country's direction has increased, with 59.2 per cent saying the country was heading in the right direction, compared with 52.2 per cent in February.