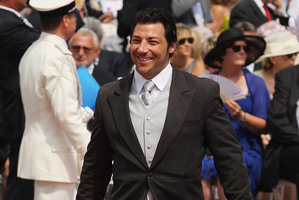 Former All Black Byron Kelleher is caught up in a foreign media storm suggesting he is having an affair with Princess Charlene of Monaco.
Speculation about the pair has been rife since a Spanish newspaper ran a story linking the 36-year-old player to the royal beauty.
Spanish national daily newspaper ABC reported on Saturday that the Princess was holidaying in her native South Africa with Kelleher two weeks ago instead of attending the coronation of new Dutch King Willem-Alexander with her husband, Prince Albert II.
Ex-Olympic swimmer Charlene, 35, was in South Africa working with her sports-focused charitable foundation, the Princess Charlene of Monaco Foundation. Dunedin-born Kelleher is in charge of the foundation's rugby projects.
"Rumours about a relationship between the two have erupted," the article said.
The royal family's head of press service, Laetitia Pierrat, told the Herald last night the reports were baseless and "totally false".
ABC said Kelleher, described as an "intimate friend" of Charlene, was at the Princess' side at the recent Monte Carlo Masters tennis tournament.
Other European news agencies were also carrying the story under headlines such as "Charlene of Monaco and rugby man Byron: An affair in the works?" and "What's going on between Princess Charlene and rugby star Byron Kelleher? Monaco whispers about THIS PAIR".
The articles were accompanied by photos of the couple at the tennis.
Kelleher's father, Kurt, last night called the reports "mere speculation."
"They have been friends for some time, but it is untrue that he was in South Africa with her," the kiwifruit grower said from his Tu Puke home.
In 2011, Prince Albert II told French news outlet Le JDD that Kelleher was a "very close friend" of the couple, and he was a guest at their wedding later that year.
The publicity is the latest about the Princess, who married amid speculation she was a reluctant bride.
Kelleher's All Blacks teammate Josh Kronfeld said it "wouldn't surprise" him if the reports were true.
"If anyone can meet women, it's him," he told the Herald Online.
Kelleher, a 57-cap All Black, had a relationship with pornography star Kaylani Lei in 2005. He is now halfback for Paris club Stade Francais.