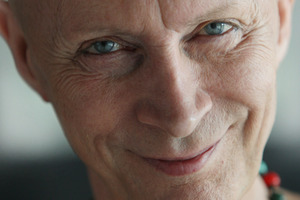 The man who got some of his inspiration for cult musical The Rocky Horror Show while watching B-grade movies in Hamilton will today receive an honorary award despite admitting he struggled at school.
Richard O'Brien is receiving the Master of Arts degree at a special conferment and dinner at Hamilton's Wintec this evening for his contribution to the arts in the Waikato.
O'Brien said it would be "splendid to finally be able to prove that my teachers were wrong about me".
"It is true that the school play that I was in was lifted out of the mundane into a richer brew of theatrical wonder after I had combed white gunk through my 14-year-old hair and shape-shifted myself into the form of an old, railway stationmaster in Cornwall."
O'Brien, who wrote the Rocky Horror Show and played disgruntled butler Riff Raff in the movie, emigrated to Hamilton at the age of 10 with his family from England in the early 1950s.
He admitted to difficulties at school - particularly with Pythagoras - before leaving and working as a barber.
"Now I am an academic. Eat your hearts out all those without honours. I am most grateful and truly excited by this thoughtful and kind act of Wintec."
He said songs he penned for the show came from watching horror movies at Hamilton's old Embassy theatre.
He celebrated his 70th birthday in Hamilton with a fundraising concert for Starship Children's Hospital at Founders Theatre.