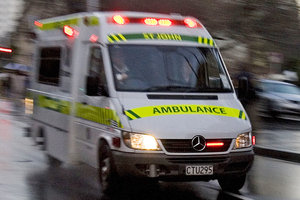 A 4-year-old boy and his mother spent a cold night at the bottom of a steep bank on the West Coast after he slid to the bottom yesterday and could not climb back out.
His mother also became trapped after trying to rescue him.
A fire and rescue team was called to a Ahaura property this morning to winch the boy to safety. It took more than 10 people to reach him, secure him to a stretcher and pull him back to the top.
Ngahere Volunteer Fire Brigade officer Deb Daly said the boy was playing with his dogs last night and followed them down a steep 6m bank. When he was unable to get back up his mother climbed down after him and got stuck herself. The pair spent a chilly night huddled outside with their five dogs.
This morning the woman managed to climb out and raised the alarm at 9.15am.
Ms Daly said the boy had sore ribs but was otherwise unharmed.
He was awake and talking to rescue officers when they pulled him out about 11am. He was taken to Grey Base Hospital for a check-up.
- The Greymouth Star