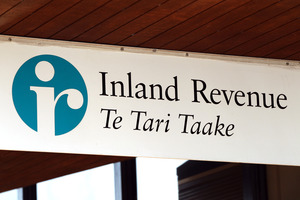 The Inland Revenue Department's computer system was back up and running this afternoon after it crashed this morning.
The system crashed just a day after it was announced a $1.5 billion upgrade would be rolled out over 10 years.
APNZ phoned both the 0800 number and the regional numbers which said the computers were down.
A recorded message said: "due to our computer system being temporarily unavailable we may not be able to assist you with you inquiry - if you still wish to speak to our staff we will be with you as soon as possible''.
An IRD spokesman said it was looking into the problem but could not comment until it knew more.
A customer who did not wish to be named said she had tried to contact IRD this morning with a provisional tax query.
She said she phoned both the 0800 number and a Wellington number and was told to enter her details and had to wait for awhile before she was told the computer systems were down.
She said the helpline was also overloaded whenever a tax date loomed. Provisional tax payments are due on May 7.
"As a business owner this is very frustrating - earlier in the year the IRD's telephone staff told me I had a provisional tax payment due on May 7.
"Even if the computer is down the system should still take people's names and numbers and call them back,'' she said.
A spokesperson for Revenue Minister Peter Dunne said the problem had been caused by some staff members not being able to log in this morning.
A spokesman for the department said that due to a technical problem, some staff were not about to receive or send email.
"However, the service has been fully restored. This incident is not related to the recent issue with our email gateway,'' the spokesman said.
Documents released yesterday showed the IRD computer system had been at risk for at least three years and seriously in need of the $1.5b upgrade.
Mr Dunne yesterday announced the upgrade - the largest overhaul of any government IT system.
He said it was "fully stretched'' and a 10-year project to upgrade the system was required.
The upgrade is scheduled to take 10 years, but could be longer.
Mr Dunne said IRD's functions had changed since its computer systems were launched in 1991.
- APNZ