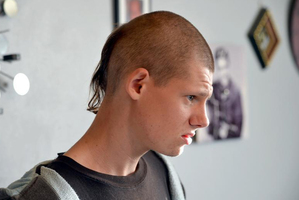 The Mosgiel son labelled a "K2 monster" by his mother has returned home from the "Milton Hilton" and joined her crusade to ban synthetic cannabis.
David Pine, 20, admitted in the Dunedin District Court yesterday one charge of threatening behaviour and arguing with his mother Carol Pine, 40, while being under the influence of K2 on March 26.
Pine was remanded on bail with conditions including a 9pm-7am curfew and not to use synthetic cannabis or illegal drugs.
He will be sentenced on this and other matters on June 6.
The month he spent in a "cage" inside the Otago Corrections Facility, near Milton, had been "tough" and being home in Mosgiel was "way better", he said.
He celebrated his 20th birthday inside the facility, he said.
Since he had stopped smoking synthetic cannabis he could "think straight" and "talk properly" again, he said.
When using K2, all he thought was "when is the next fix" and synthetic cannabis made its users "brain dead", Pine said.
He would be collecting signatures for a petition to have synthetic cannabis banned, he said.
"I am going to help mum."
Mrs Pine said she was happy to have her son out of the "Milton Hilton" and back home.
She had collected 400 signatures for her petition and would be collecting more next Tuesday from 1pm in the Octagon, where she and her son would wear "say no to K2" T-shirts, she said.
The announcement by Associate Health Minister Peter Dunne yesterday on banning two substances included in synthetic cannabis K2 was not enough and it needed to be banned immediately, she said.
"Why can't [Prime Minister] John Key say, as of tomorrow, that's it, no more?"