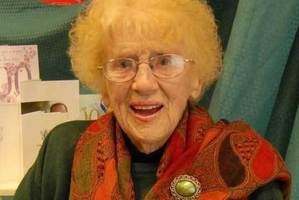 A 100-year-old woman fled a burning house in Gore early yesterday but her Down syndrome son had to be dragged out and resuscitated by volunteer firefighters.
Firefighters were alerted just after 5am, moments after Helen Rendall - a resident of the Toronto St home for the past 74 years - was roused by smoke alarms and escaped the inferno.
Despite suffering smoke inhalation, she was able to provide instructions to firefighters as to the whereabouts of her 58-year-old son Geoffrey, Chief Fire Officer Steve Lee said.
Two volunteers with breathing apparatus then entered the smoke-clogged home and located her son.
Another member of the brigade, Richard Gutschlag, told the Otago Daily Times: "I went about a metre inside the door and had to turn back; it was just too thick".
He then helped perform CPR on Mr Rendall, who was not breathing due to smoke inhalation.
"He just came around a bit later on ... By the time we got oxygen on him and pumped his chest for a bit he came to."
Mr Rendall was later taken by the Otago Regional Rescue Helicopter to Dunedin Hospital in a serious condition.
Last night, he remained in a serious but stable condition in intensive care.
His mother was taken to Gore Hospital as a precaution, Senior Sergeant Richard McPhail, of Gore, said. Victim Support was working with the family.
The house was well alight when the brigade arrived and three appliances, as well as tankers from Pukerau and Tapanui, were used to fight the fire, Mr Lee said.
The house was extensively damaged, but the brigade managed to stop the fire from spreading to a hedge and a neighbouring property.
"It was only a matter of minutes before it flashed over," he said.
"The members of the brigade performed extremely well."
Last year, on her 100th birthday, the fiercely independent Mrs Rendall told the ODT she still mowed her lawns and "bring my own coal in, too".
New Zealand Fire Service fire risk management officer Paul Glanville conducted a scene investigation yesterday morning and said hot ashes had set a wheelie bin on fire, which spread to the back of the house.
"They had done the right thing. They had put the ashes into a metal bucket but there was not enough time [for them] to cool," he said.
The ashes had been tipped into the wheelie bin, on top of some dry leaves, on Saturday morning.