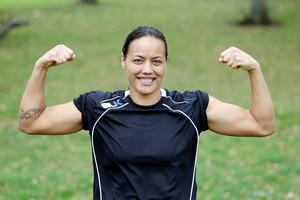 Honey Hireme has been part of two rugby league world cups and stars in national rugby sevens team, earning the nickname "Honey Bill Williams".
Hireme has twice been named New Zealand player of the year as one of the stars of the Kiwi Ferns, the New Zealand women's rugby league team. They have won the past three World Cups (2000, 2005 and 2008) and are preparing to defend their title in July in England.
And just like Sonny Bill Williams, Hireme has mastered two codes. She has played rugby for more than a decade and has played for New Zealand on the IRB Women's Sevens World Series.
"People are always surprised when they watch women's league," says Hireme. "There is a lot of skill and big hits. It's not just a bunch of girls jersey-pulling."
As for playing like Sonny Bill, "I don't know if I can live up to the comparison," laughs Hireme. "Everybody says I have the fend but I don't know if I have too much else. He is definitely a role model though."
Hireme has three children.