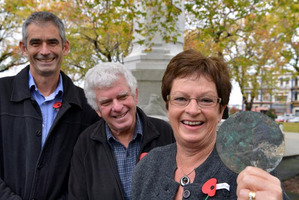 A lost memento commemorating a WWI soldier has been reunited with his descendants, after it was discovered during alterations to an Otago home.
Private John Stanley Jackson, a Dunedin coppersmith, was one of 10 New Zealand privates who died near the English village of Bere Ferrers.
The 20-year-old and fellow 1NZEF soldiers had landed at Plymouth, England at 6am on September 24, 1917, before boarding a train at 3pm to start preliminary training.
An inquest into their deaths revealed the men were cold and hungry and were told they would eat when the train made its first stop.
However, when the train made an unscheduled stop at Bere Ferrers the men got off, and despite shouts of warning were hit by the Waterloo to Plymouth Express as it rounded the corner.
Nine of the men died instantly, and the 10th the following morning.
The inquest later revealed the men got off the train at the wrong side, assuming it would be the same door they had boarded the train.
A large bronze memorial plaque commemorating Private Jackson was uncovered two years ago by workers after a concrete deck was removed from the East Taieri home owned by Parry Guilford.
"It is no good to us. We want to give it to the family as it might mean something to them. It just sits there in my sock drawer and doesn't do much," Prof Guilford said earlier this week.
The Otago Daily Times was able to track a niece of the late soldier - Raylene Haraki - who used to live at the East Taieri property that her father Leonard Jackson once owned.
The plaque bears the full name of John Stanley Jackson next to a British Lion and Britannia, with the inscription around the medal reading "He died for freedom and honour", and was presented to family on the death of a soldier.
Mrs Haraki and her brother, Keith Jackson, were delighted to receive the plaque at the Dunedin Cenotaph yesterday.
"It is unbelievable, just unbelievable," she said.
The family were yet to decided what they would do with the plaque, but would get it professionally restored.
A plaque commemorating the death of the 10 men, who were buried in Devon and Cornwall, was unveiled at a memorial service at Bere Ferrers in 2009.
A New Zealand flag hangs at the nearby church.