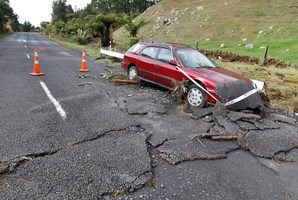 Sally Downing's legs began shaking when the steering in her car went, along with the electrics, as flood waters rose rapidly outside her vehicle.
The 64-year-old had finished her waitressing shift at the Waihi Beach RSA and was driving home when she ran into trouble about 10pm on Saturday.
Torrential rain in the area brought flooding throughout the Waihi Beach area and caused the evacuationof about 70 people from a nearby holiday park.
And more miserable weather with the chance of thunderstorms and heavy showers are expected this week, though probably not as intense as Saturday night's episode.
Ms Downing said she felt her car jolt and lose traction and she could no longer steer as she drove up Waihi Beach Rd in blinding rain about 10pm on Saturday.
Water swept through her car, cutting the electrics, and a torrent of water nearly halfway up her doors outside stopped her from opening them.
"I tried to put the car into neutral but got stuck against the barrier and then the electrics went so I couldn't open the windows," she said.
"It was really pouring with rain and the water was now halfway up my doors. I didn't panic but my knees started to wiggle a bit."
She said it was fortunate that work colleagues followed her home. They called the fire service and within a few minutes three firefighters arrived and one of them told her: "We are getting you out of there".
The firefighters smashed the rear window of the car and hauled her to safety.