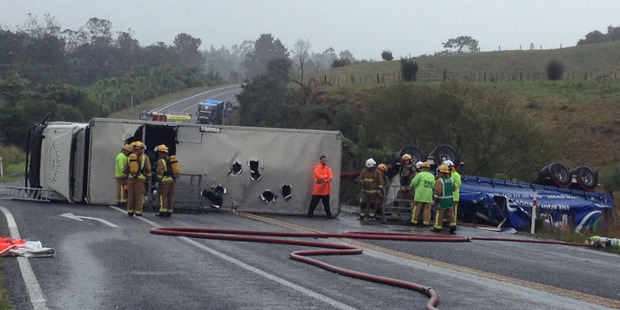 A truck carrying hazardous substances has rolled and forced people in nearby houses to evacuate on State Highway 2 in the Bay of Plenty this morning.
The highway between Whakamarama and Apata is completely blocked and will not be cleared until daylight, Fire Service shift manager Scott Osmond said.
Traffic is being turned around at the crash scene, about 8km south of Katikati, and there are no available detours between Tauranga and Katikati, police said.
The truck rolled shortly before 4.30am, spilling gas cylinders onto the road.
Mr Osmond said there had been no substances leaked on to the road, but it was unsafe to remove the cylinders until after sunrise.
Police have not said how many people were evacuated but said power had been cut to the area.
The driver and a passenger of the truck have minor injuries and are being treated at the scene.
The alternative for Tauranga traffic is via the Kaimai Range and Matamata.
Mr Osmond said fire crews at the scene were now cutting through the steel casing that held the gas canisters in the truck's trailer.
"That's going to take between four to six hours."
Mr Osmond said he was not aware of any explosions from the scene, which could have been responsible for three puncture-like holes in the roof of the truck's trailer.
"If there has been anything like that it certainly hasn't been reported to us," Mr Osmond said.
Gas canisters could still be seen lying on the side of the highway this morning.
Western Bay of Plenty head of road policing Senior Sergeant Ian Campion told the Bay of Plenty Times further evacuations were possible near the crash scene.
"There were concerns that a number of bottles released gas and some went off the side of the road way," he said.
"[The New Zealand Fire Service] initially said 24 hours. There may be further evacuations later this morning, once the fire service assesses the scene."
It is believed there was no injury to the truck driver.
"Crash investigation will be out there later this morning, once the scene is under control and safe," Mr Campion said.
- APNZ