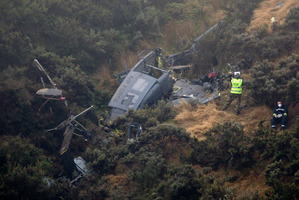 The pilot in charge of a formation of Iroquois helicopters when one of the choppers crashed on Anzac Day has pleaded not guilty to a charge of negligence.
Flight Lieutenant Dan Pezaro, is facing a military tribunal today at the Royal New Zealand Air Force base at Ohakea.
He has denied a charge of negligently failing to perform his duty by not aborting a flyover mission on Anzac Day, 2010, when the weather turned bad, while he was the formation leader.
Three crewmen were killed and one was seriously injured when their helicopter, the second in the formation, crashed into a hillside south of Paraparaumu on the Kapiti Coast.
The prosecuting officer, Squadron leader Ron Thacker said the group was flying along the coast when they struck low cloud.
He said at that point the flight should have been abandoned, but Flt Lt Pezaro continued, and the helicopters were forced to fly below the minimum height of 600ft.
"A reasonable, capable and careful person would have known it was their duty; a reasonable, capable and careful person would not have failed in that duty."
At the end of the hearing, if there is evidence to support a prima facie case, the disciplinary officer will determine whether the matter will be tried summarily or be remanded for trial by the court martial.
The hearing continues.
- APNZ