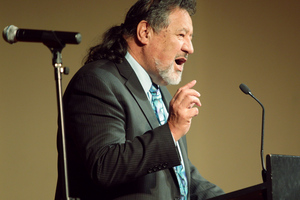 Maori Party MP Te Ururoa Flavell has rejected co-leader Pita Sharples' claims he is trying to blackmail the party by threatening to leave if he does not get the leadership.
Dr Sharples, who is in China with the Prime Minister, said yesterday that Mr Flavell's claim he would consider leaving politics if he was not made leader before the next election amounted to "a kind of blackmail".
Mr Flavell said his comments were not intended to be a threat but if he was not successful in his leadership bid this time, he would have to consider stepping aside because the party would need to plan for future succession.
"I put my name forward believing I have something extra to offer to the party and if the party believes somebody else should take up the reins in Waiariki to lead up in the future, I'm prepared to step down for that."
He said his Waiariki electorate seat was one of the safest the Maori Party held, which would make it ideal for a new candidate "and I'm prepared to do that".
Mr Flavell formally challenged Dr Sharples for the leadership in January but Dr Sharples has refused to step aside for him, saying he will be needed to hold the party together when Tariana Turia retires in 2014.
Two national council meetings on the issue have failed to resolve it and there has been a lack of consensus over attempts to find a solution by changing the leadership model.
Dr Sharples yesterday also voiced frustration about the apparent inability to resolve the matter, saying it had given the appearance the party was "in absolute chaos".
"If we had a really strong national [council] they would do something about it instead of leaving it. It's come down to talk about 'the Maori Party's in absolute chaos'. Well the parliamentary side is not."
Mr Flavell said he understood Dr Sharples' frustration, but also understood there was a need for the matter to be debated fully rather than a hasty decision made.
"It's important we do get time because it's a huge issue. I hope we get a strong and robust process for the future, as well as a good outcome."
Labour MP Shane Jones, who ran against Dr Sharples in Tamaki Makaurau in 2011, said it was unfair for Dr Sharples to accuse Mr Flavell of blackmail given it was likely the final decision would be made by Mrs Turia: "The power is always going to lie with Tariana."