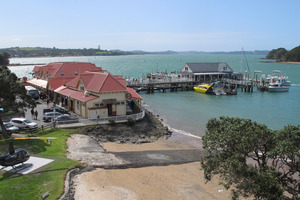 Tourists sleeping in their vehicle in the Bay of Islands have again been the victims of robbers - who this time took not only their possessions but also their car.
Sergeant Peter Masters, of Paihia police, said three English tourists currently residing in Tauranga were asleep in their stationwagon outside the old Beachhouse Bar on Kings Rd when they were woken by a group of men about 5am on Sunday.
The men asked for cigarettes, then produced a large knife and ordered the trio out of the car. The visitors were made to walk towards the beach while the offenders drove off in their Subaru. They called police immediately but their car was still missing as of yesterday.
Mr Masters urged anyone who saw a silver Subaru Legacy station wagon, registration CEY423, to call Paihia police on (09) 402 6105.
Paihia security guard "Tiny" Dawson had arranged free accommodation and meals for the trio, as well as replacement clothing via Focus Paihia's op shop.
"He's a great ambassador for Paihia, but he shouldn't have to do this," Mr Masters said.
Five men were involved but the victims could offer only general descriptions. The Kerikeri CIB is investigating.
Previous attacks on tourists sleeping in their vehicle on roadsides or car parks include an attempted robbery of a retired Dutch couple at Matauri Bay last month. In that case the 62-year-old Dutchman managed to strike one of the offenders with the baseball bat he was wielding and they fled empty handed.
Three young Frenchmen were attacked as they slept in a van parked in a layby near Mangamuka in 2010. One will require lifelong dental treatment as a result of his injuries. Lewis Conway Haddon and Bluray Joyce, both 18 at the time, were jailed for four years for the attack.
In 2006 Dutch honeymooners parked at Haruru Falls were attacked and the woman sexually assaulted. The main offender, Keith McEwen, was sentenced to preventative detention and his accomplice, Christopher Manuel, to nine years' jail.
For more articles from this region, go to Northern Advocate