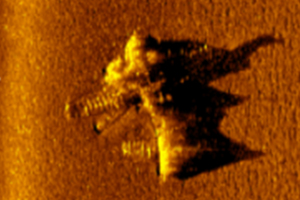 It is likely to be Friday at the earliest before exploration can continue at the scene of a fatal plane crash off the Waikato coast.
Deteriorating weather conditions and a rough sea prevented further exploration today (Wed), following the discovery of upside-down wreckage of the plane yesterday.
It is thought to contain the bodies of 2degrees' chief executive Eric Hertz and his wife Kathy.
Sergeant Warren Shaw of the Waikato Search and Rescue Squad said a mixed team of police, Navy, Civil Aviation Authority (CAA), NIWA and Coastguard staff returned to the scene of the wreck this morning but conditions prevented the launch of another Remote Operated Underwater Vehicle.
"Consequently the Coastguard vessel has returned to Raglan where planning and coordination is continuing with a view of having operational options available for when the Navy's dive support vessel, HMNZS Manawanui, arrives on Friday.
"Manawanui's capabilities include a recompression chamber, dive bell, lifting and four point precision anchoring which will be invaluable to the recovery team and she will also embark a detachment of Navy Operational Divers to assist in the search," Mr Shaw said.
Poor weather and sea conditions are likely to continue tomorrow, he said, which would provide an opportunity for the multi-agency team to continue recovery planning.
Sonar images have mapped where the Beechcraft Baron is lying, 56 metres below the surface near Gannet Island.
The families of Mr and Mrs Hertz said today they were slowly waking from their shock.
They publicly thanked "the tremendous outpouring of support and condolences being offered to help us deal with ... our sudden and tragic loss.
"Knowing that they both touched so many lives in a positive way is a profound reminder of how much they meant to us in our own lives," the family said in a statement.
"We are comforted and proud to know they were not just beloved in our families, but also integral and engaged members of the community they loved in New Zealand."
The family said they were being supported by "energy and love" in Auckland, Seattle and "around the world".
"As we gradually awaken from our shock we are beginning to think about how best to recognise and celebrate the lives Eric and Kathy led and will share those plans at the appropriate time.
"We thank you all for your continued support and condolences in what is an incredibly difficult and sad time for us all."
CAA spokesman Mike Richards said an aviation expert was helping to identify parts of the aircraft found on the sea floor.
"With the aircraft being upside down, fully submerged and bedded in the ocean floor, it's quite a difficult task to make sense of the visual images that are being relayed to the team on the surface."
Mr Richards said once police and Navy had completed recovery options to retrieve Mr and Mrs Hertz, the CAA would start considering ways to carry out the investigation as to establishing a possible cause or causes of the accident.
- APNZ