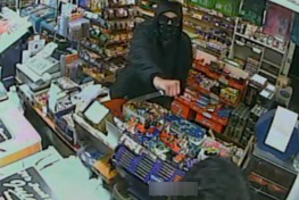 Christchurch Police are looking for help in finding a man who attempted to rob a Linwood dairy at knife point earlier this month.
The man entered the Woodham Rd dairy on Monday, March 18 about 8.25pm, armed with a knife, and demanded money from two staff. He was only in the store for about 30 seconds, when he left in a hurry empty-handed.
A reconstruction of the attempted robbery will feature on Police Ten 7 tomorrow evening at 7.30pm.
"Any incident where a weapon involved is particularly nasty and distressing for the victims," said Detective Sergeant Joel Syme.
"In this case it was fortunate that nobody was injured - but we want to make sure this offender is located and apprehended.
"It's likely someone knows who this offender is - and we hope the Police Ten 7 programme will prompt people to come forward with information."
The offender is described as a Caucasian in his mid-20s, approximately 182cm tall and of medium build.
He was reportedly wearing a black leather jacket with a hood, blue jeans, a black bandana with white markings, and sunglasses.
Anyone with information should contact police on (03) 363 7428 or call Crimestoppers anonymously on 0800 555 111.
- nzherald.co.nz