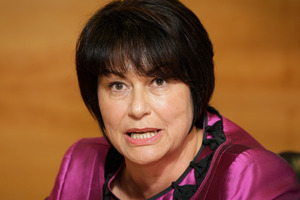 Education Minister Hekia Parata is refusing to budge on Thursday's Christchurch schools closure and merger deadline in spite of an Ombudsman's Office investigation into the consultation process.
The Ombudsman's Office announced yesterday it would conduct an inquiry into the consultation process on the controversial proposed school closures and mergers.
It is expected to be completed by the second half of the year.
Schools canvassed yesterday said Ms Parata now needed to postpone tomorrow's deadline for submissions over the closures and mergers.
Last month Minister Hekia Parata announced the closure of six schools and the merging of a further 12.
But Ms Parata told The Star yesterday the investigation will not stop her from making her final decisions.
"Throughout this process parents have consistently told us they want certainty.
"They want to know whether their school is closing or merging and when so they can make decisions for their child," she said.
Phillipstown School principal Tony Simpson said: "The right thing to do is to put the process on hold to allow the investigation of the Ombudsman to be completed."
Phillipstown School is to merge with Woolston School on the Woolston site as early as next January.
Ms Parata said she welcomed the Ombudsman inquiry as there was always room for improvement.
But principals say her process was flawed from the start.
Branston Intermediate School principal Jennifer O'Leary said there were glaring omissions even before the first announcement in September last year.
"They should have come to us and the community, and said hey things need to change and started consulting then," she said.
She said the proposals were "a bolt out of the blue" at the September meeting.
"When you see grown men in tears [principals from other schools] you know this is not right," she said.
"It was only in retrospect when we relook at it we realise how bad it really was.
"Looking at it from the outside, it was absolutely appalling," she said.
Mr Simpson agreed, saying he found the consultation process "incredibly frustrating" due to the lack of information forthcoming from the ministry including land seismic reports and the credibility of the information relied on.