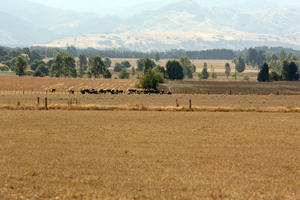 Farmers in Wairarapa have been able to take the finger off the panic button after the entire district was drenched over Monday and Tuesday.
Up to 100mm fell in some places and most areas soaked up at least 50mm.
Household water tanks have been replenished and thirsty pastures have been given a good drink.
Farmers spoken to yesterday were hedging their bets though over whether the rain was enough to get things back on track, with most saying a further good rain was needed within the next three weeks before a confident call on an end to the drought could even be contemplated.
Wairarapa Federated Farmers president Jamie Falloon said the rain had "broken the back of the drought".
"It has taken the pressure off and what we need now is good grass growth going into winter."
Ironically, to achieve that, farmers want warm conditions to return and not to have the district hit by a series of cold southerlies.
Meanwhile, Eketahuna's Ian Woodcock, who has been studying weather patterns for years and collecting rainfall figures, said the rain storm had the potential to be far from a welcome visitor.
Mr Woodcock said the remnants of Cyclone Sandra had some of the hallmarks of the 1968 Wahine Storm - or Cyclone Giselle.
Both had tracked onto New Zealand is different ways having originated in the Coral Sea but Cyclone Sandra packed less punch and fizzled out over cold water. Cyclone Sandra had crossed the Tasman Sea into Cook Strait and headed off east whereas the Wahine storm had come down the Bay of Plenty, Hawke's Bay and arrived during the night along the Palliser Coast.
Mr Woodcock said weather detection was not as sophisticated in 1968 and the Wahine storm had caught people by surprise as it tracked south.
This week's heavy rain caused some consternation in South Wairarapa when it was realised the mouth of Lake Onoke was closed. The lake level had been extremely low but if massive amounts of water had suddenly been injected into the river systems feeding it then the lake could rapidly have filled and water could have backed up onto surrounding land.
- APNZ