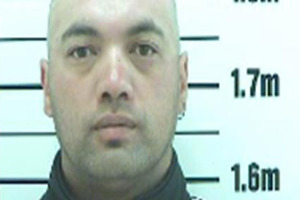 Waikato police are searching for a man with a history of carrying firearms and knives who has breached his parole.
They warned Cameron Lee Ashby, 34, was dangerous and should not be approached.
Hamilton Sergeant Robert Isaac said Ashby had amassed a "disturbingly violent criminal history" since 2000.
He had been released on parole after being sentenced to 10 years in prison in 2005 but had breached his parole conditions.
"He also has a history of carrying firearms and/or knives and we urge anyone who recognises Ashby not to approach him but to ring 111 immediately."
Waikato Police communications officer Andrew McAlley said the hunt for Ashby was "totally unrelated" to the shooting in Tokoroa yesterday.
Ashby was described as being Maori, of medium build and about 180cm tall. He had known connections in the Hamilton, Waihi, Paeroa and Karangahake Gorge areas.
Anyone with information his whereabouts was asked to contact Mr Isaac on 07 858 6200 or ring Crimestoppers on 0800 555111.
* Read the Herald's live news blog here.
- APNZ