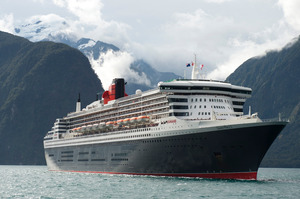 The 151,400-tonne Queen Mary 2 was overshadowed by the towering landscape as it cruised Milford Sound and neighbouring Dusky and Doubtful Sounds for the first time. Photo / James Morgan
A towering Queen Mary 2 was dwarfed by the huge mountains and stunning landscape as it cruised into the Fiordland National Park.
Sitting 62m above the water and measuring 345m long, the cruise liner is the largest passenger ship to ever visit the Milford Sound.
It wowed members of the public in Auckland and Wellington when it arrived last week, before heading to the sounds at the weekend.
The cruise liner is on its maiden circumnavigation of the country.