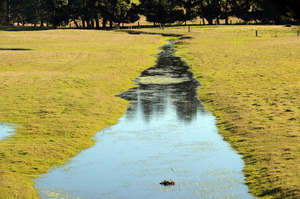 A Canterbury dairy farmer who crashed his motorbike and drowned in a roadside waterway had cannabis and alcohol in his system and was not wearing a helmet, a coroner has found.
The body of Scott Ian Broad, 21, was found submerged in water next to his motorbike about 9.30am on April 15, 2011 by his coworkers after he failed to turn up to work on a Mt Somers farm at 4.30am.
Thinking he had slept in, Broad's employer and co-worker finished milking before they went looking for him.
His body was found in a water race at the end of Sawmill Rd, across Arundel-Rakaia Gorge Rd.
In a report issued today, Coroner Richard McElrea found that Broad had been at a social event at a neighbouring property for five hours on the night before his body was found. A toxicology report showed that during this time he had consumed some alcohol and smoked cannabis.
After leaving the social occasion on his bike about 11pm, Broad spoke to an ex-girlfriend over the phone and arranged to meet her on the property.
She said she could tell he had been drinking and "was drunk".
The last text she received from him was at 12.12am saying he would meet her in one minute at the end of Sawmill Rd, but she could not find him in the foggy conditions and returned home.
The report found that Broad's Honda motorcycle, which was permanently wired on high beam, travelled through a "T" intersection a low speed across a grass verge and crashed into the water race on the other side.
He died from "critical severity head injury compounded by drowning foillowing immersion in a roadside water course".
Broad was not wearing a crash helmet and the bike was neither registered nor warranted, the report said.
He also had only a learner's class car licence and was not entitled to be driving the motorcycle on a public roadway.
Coroner McElrea found that while the crash was low speed, conditions were foggy and illumination was high beam only.
"The rider was not wearing a crash helmet. He has been rendered immediately unconcious on impact, and has drowned through his head being submerged in a water race," McElrea said.
Having been at a social event for five hours, McElrea said Broad had consumed some alcohol, smoked cannabis and was "noticeably intoxicated".
"The most likely cause of the crash was the cannabis consumption and the lowered visibility at the time, compounded by the headlight for the motorcycle being permanently wired on high beam."
Another report released today found that a man killed when he lost control of his rented campervan near Mount Bruce in the Wairarapa on June 25, 2011 was also found to have cannabis in his blood.
Northland man Hori-Hau Simon, 47, was driving along State Highway 2 toward the Mount Bruce Summit with his 10-year-old son at about 2.30pm when he crossed the left hand line and collided with the left bank.
Simon was thrown through the windscreen and onto the road where he was killed on impact. His son was later found inside the van by emergency services and suffered only minor injuries.
Simon was discovered to be carrying about $7000 cash and a "sizeable" amount of methamphetamine.
While a toxicology report showed no alcohol in his blood, there was evidence of the possible use of methamphetamine and/or MDMA as well as cannabis in the blood, the coroner said.
Coroner Ian Smith found Simon died "as a result of sustaining traumatic rupture to his heart and aorta from a motor vehicle crash".