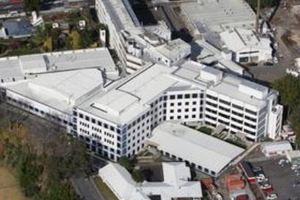 A Tauranga kiteboarder is in intensive care with a broken neck suffered during a freak surfing accident.
Amanda Lowry was seriously injured while surfing at Tay St about 5pm on Thursday.
It is understood the 41-year-old hit her head on the sea floor and badly damaged her neck after diving off her board.
A Tauranga Hospital spokesperson said she was in a stable condition in intensive care.
The Bay of Plenty Times understands Ms Lowry broke vertebrae in her neck and is unable to walk.
Omanu Surf Club lifeguard Ronald Dobbs was driving down the beach when he was waved down by a group of people.
"They had got her out of the water on her surfboard," he said. "They had all done the right things and treated it as seriously as possible so further damage wasn't done."
Someone was already supporting her head and an ambulance was on the way so there was nothing more Mr Dobbs could do to help.
St John ambulance staff put her into a neck brace and loaded her into the ambulance to be taken to the hospital.
Local kiteboarders declined to speak about the accident when contacted yesterday.
For more articles from this region, go to Bay of Plenty Times