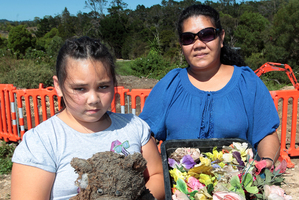 Sina Waddington never got the chance to tell her son Brunson all the things she wanted to.
The sixth of her seven children died less than a day after he was born in 2002.
Waddington wrote him a letter and placed it inside a bottle next to his grave at Waikumete Cemetery. It was a letter of love, of hopes that would never be realised and of memories that were as fleeting as they were precious.
"I told him my memories of when I was pregnant with him, when he started moving, and the hopes I had for him ... it was full of tears and anger," Waddington said.
Yesterday, she was back at the West Auckland cemetery with other bereaved parents to wash and sort through decorations pulled out of a mulch pit by a team of archaeologists hired by Auckland Council.
The decorations, including soft toys, flowers and letters like Waddington's, were controversially bulldozed off 172 graves, and thrown out by council contractors last month.
The council has apologised, but a tearful Waddington was yesterday struggling to deal with what happened.
"I'm still grieving and it's bringing back all those bad memories."
She fears her son's body was disturbed by the contractors and she was considering having his remains moved to Tauranga, where she now lives.
Council parks, sports and recreation acting manager Mace Ward said retrieved decorations were being photographed and unclaimed items would go into storage for at least three months.
The council was also reviewing its processes so the same mistake never happened again.