Locals upset over replacement process which will leave them with an unelected representative.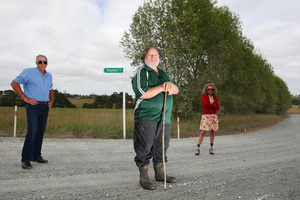 The folks in rural Rodney never were too keen on being in the Super City. One Kaipara Flats farmer told a Herald reporter before the 2010 elections that created the new Auckland that if she had wanted to live in urban sprawl, she would not have moved into the country. "I moved up from Auckland to get away from Auckland," she said.
Now, up Wellsford way, a bunch of them are mad as hell at the plan to appoint a new representative on the Rodney Local Board.
The boards, of which there are 21, are creatures of the same statute that brought the new Auckland into being. Wellsford has only one member on the nine-person Rodney board and the man who won the spot, James Rolfe, got there by the skin of his teeth - 480-474: his election-night majority was four votes, revised to six after a recount.
Rolfe, who ran the local McDonald's, resigned in January after opportunity lured him to New Plymouth and a lot of people in Wellsford assumed the bloke he'd pipped at the post would slip into his seat.
That bloke, James Colville, is a dead ringer for Santa when his beard's bushy; he gets parts on television ads from time to time. A one-time farmer, he chaired the local branch of Federated Farmers for years and he's a trustee of Northland Rural Recovery, which helps out in events such as the recent drought. He's held in high regard in town.
The trouble is that the Local Electoral Act doesn't provide, as the legislation establishing MMP for general elections does, that the next person on the list slips into a vacant chair. If a vacancy occurs more than 12 months before an election, a byelection must be held; if there is less than a year to go (local body elections are in October) the body concerned may appoint a replacement or leave the position unfilled.
The Wellsford question has arisen in two other local board areas: on Great Barrier, they've decided to leave the spot vacant; in Manurewa, they are appointing someone. But rumbles of discontent down south and up north prompted the council to seek a legal opinion, the Local Board Services manager Karen Lyons told me, and retired High Court judge Sir Bruce Robertson confirmed on Friday that the two boards were entitled to choose someone to appoint.
Rodney Councillor Penny Webster describes the situation in Wellsford as unfortunate. "It hasn't been handled well. I'm not blaming anyone because it's a whole new scenario. But, to be honest, there were plenty of people who didn't want James and we have to get someone in quickly who can work with that community."
Mathematically, she has a point: 1758 votes were cast in the poll for the board rep, so 1284 people voted for someone other than Colville. But Julie Cotton, the secretary of the Landowners and Contractors Protection Association, which is agitating for Colville's appointment, doesn't see it that way.
"It may be legal [to appoint someone]," she says, "but it's quite wrong. People have a right to democracy and the fact that the decision is made behind closed doors doesn't wash well with them."
Cotton's group has organised a public meeting in the community centre at 7pm tomorrow. She's picking it will be packed - she says she's gathered "hundreds" of signatures on a petition in favour of her man.
But it may all be pointless. The board chairman, Bob Howard, says the decision was made on Monday after a shortlist of three (of which Colville was one) had been interviewed. The result will be announced next Monday at the board's regular business meeting.
Howard says he's been told "you'd better watch out", if the board makes the wrong call, but he has to follow process. "There's a group of 200 people jumping up and down and there's probably about 5000 other people who could have an opinion as well and are happy to live with the arranged process."
He's not going to tomorrow's meeting - and he's instructed fellow board members not to go either - because "it could be seen as a conflict to be listening for one group. It would need to be a meeting called by the board and if you are going to do that, you might as well have a full election."
•Disclosure: James Colville is a friend of the writer. He was not interviewed in the preparation of this column.