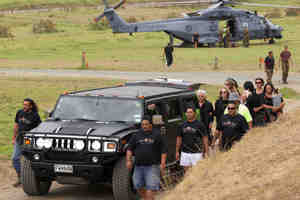 Ralph Hotere has been laid to rest in the tiny Northland settlement where he was born 81 years ago.
He was buried in "Hotere Lane" of a hilltop cemetery overlooking his home marae at Mitimiti, North Hokianga yesterday.
In contrast to the artist's dramatic arrival on Friday on board an Air Force NH90 helicopter and the crowds that filed through Matihetihe Marae over the weekend to pay their respects, the final day of his tangi was a relaxed, low-key affair.
About 150 people, including many of his wife Mary McFarlane's family from Otago, squeezed into the marae's whare tupuna for a mass led by Pa Henare Tate. Another hundred followed the service outside via loudspeakers.
Following the service his casket was carried into St James' Church next to the marae, stopping at the grave of his mother, Ana Maria, as the church bell tolled.
The pall bearers and mourners then made the long trek on foot to the top of Te Maunga Hione, the hilltop cemetery where Mr Hotere's father and some of his siblings already lie buried overlooking the wild west coast.
For more articles from this region, go to Northern Advocate