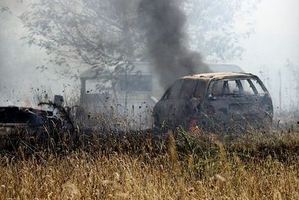 Two women had to run for their lives after the car they were in burst into flames and started a 2000sq m scrub fire that threatened homes in Welcome Bay.
The two women, who refused to be named, had been cutting gorse on a 25-hectare block of family land on Ranganui Rd.
The pair parked their vehicle on the property about 1.40pm but soon noticed smoke rising from beneath it.
The pair tried to put out the blaze but had to run for their lives when it got out of control. The car exploded behind them.
"We had to make our way around the fire to get out. We were just running for our lives. It was scary," one woman said.
"We were only about 100 metres away from it and it just blew up.
"It was quite a scary noise. It's got a scary crackle. It sounds really angry, roaring at us as we're running. You could hear the glass popping then we just heard an almighty boom."
The women watched in fear as the fire spread.
A truck parked on the property was also destroyed in the blaze but the women were relieved the fire did not do more damage.
The fire showed how important the fire ban was and how easily a fire can start and spread in such dry conditions, the woman said.
Tauranga fire service senior station officer Philip Price said the fire was headed towards homes on Dingadee St when fire crews arrived.
Twenty-five firefighters were called to fight the fire which destroyed more than 2000sq m of scrub and long grass.
Firefighters had the blaze under control within 40 minutes but continued to dampen down the area for three hours.
"It's very dry at the moment and it shows what can happen when even a small fire gets into grass or scrub," Mr Price said.
Firefighters were also called to a grass fire on Kaituna Rd, Paengaroa about 4pm yesterday.
Maketu fire chief Shane Beech said a spark from an electric fence caused a patch of grass about 50m by 20m to catch fire.
"It just shows how dry the grass is that a spark from an electric fence can start a fire," Mr Beech said.
Western Bay Moana rural fire authority principal fire officer Barry Low said the entire region was very dry and no rain was forecast for the next 10 to 12 days.
Mr Low urged people to remain conscious of the dry conditions and obey the total fire ban.
"The message is, don't light a fire. We're going to be in this sort of weather pattern for quite a while."
Tauranga City Council water supply manager Peter Bahrs said despite the dry weather, no water restrictions were expected to be needed in the city council area.
Tauranga city had not faced water restrictions since the introduction of universal water metering in 2002.
For more articles from this region, go to Bay of Plenty Times