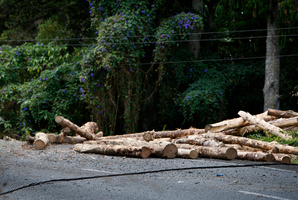 "Crazy" people are at risk of being "fried" by high voltage powerlines - including people driving over and picking up 11,000-volt cables after two accidents in Whangarei.
Northpower public affairs manager Steve Macmillan said two incidents last week where power lines were brought down during accidents had the power company worried that somebody would die.
Mr Macmillan said an 11,000-volt power line was brought down in Otaika Valley Rd by a logging truck tipping on Wednesday, and another 11kV line was brought down in Poroti on Thursday after a car hit a power pole.
He said on both occasions people did "totally inappropriate, crazy and dangerous" things with the downed power lines.
"In Otaika Valley Rd we had people driving over the downed line to get around [the accident] and somebody even picked it up to try to move it out of the way ... that's just nuts and totally dangerous," he said.
At Poroti, the line landed on a wire fence and bystanders then leaned on the fence, which Mr Macmillan said would "fry" the people if the line was live.
He said anybody who saw a powerline down should treat it as live and not go anywhere near it, but call Northpower on 0800 104 040 straight away.
"Obviously it's not wise to drive over downed powerlines, nor remotely advisable to be leaning on fencelines when powerlines are across them - regardless of whether Northpower line mechanics are on-site and have the situation under control - because you just never know if the lines are live."
He said though it might be inconvenient for people to have a downed powerline blocking their way, it was crazy to try to move it or drive over it.
"Clearly we are concerned for the safety of the public - and that of our own staff - in these situations.
"We have been running a radio campaign all summer on safety around electricity so it is extremely disappointing and concerning to see this kind of behaviour. An 11kV line will fry people at worst or leave them with serious burn injuries that will affect them their whole life."
In May last year, an 18-year-old from Ruawai nearly died, and was left with serious burn injuries, after cutting live power lines, allegedly to steal copper.
For more articles from this region, go to Northern Advocate