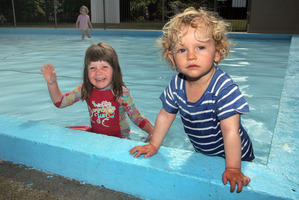 A popular Christchurch paddling pool has been shut down after it was repeatedly targeted by vandals.
Woodham Park addling pool in Linwood, which closed today, has been subject to repeat vandalism since it reopened for the summer season last year Show Weekend. The damage has compromised the integrity of the pool and is causing it to lose significant amounts of water, say its Christchurch City Council owners.
Recreation and Sports Unit Manager John Filsell is disappointed the valuable community asset has been forced to close well before it was originally scheduled to shut at Easter.
"A lot of effort went into repairing Woodham Park Paddling Pool, as well as other much-loved pools around the city," he said.
"It is frustrating that the thoughtless actions of a few people have meant our children miss out on swimming and having fun."
Repairs to the pool will take at least four weeks to complete, meaning it will not be operational again until next summer.
Other paddling pools that remain open to the 2012/13 summer season are Spencer Park, Edgar MacIntosh, Whale Pool New Brighton, Abberley Park and the Botanic Gardens.
- APNZ