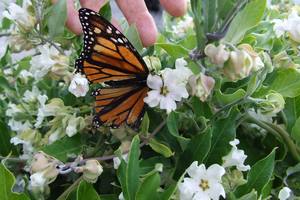 A butterfly-killing plant that entices them to its flowers before trapping them with pungent sticky nectar has become one of the biggest pest plants in parts of the country.
The highly invasive and toxic moth plant (Araujia sericifera) is on the National Pest Plant Accord, a Ministry for Primary Industry list of unwanted plants that cannot be sold, propagated or distributed.
Auckland Council recommends people pull out all the seedlings and bury them deeply. It also suggests using stump paint, herbicides and pesticides.
Northland Regional Council biosecurity officer Sara Brill said the plant was ranked among the top non-pastoral climbing pest plants.
"It invades and smothers native forest areas, garden shrubs, shelterbelt trees and roadside plants and its milky, sticky sap can also cause skin irritation and ill health."
It was also a killer of monarch butterflies, she said.
"The moth plant - or perhaps more aptly named 'cruel plant' as it is sometimes known - has masses of lovely flowers full of nectar at the moment.
"Unfortunately, what the unsuspecting butterfly doesn't know is that this nectar is so sticky it will trap the butterfly's tongue and it can't get away."
The trapped butterflies often died with their tongues firmly stuck in the flower.
Ms Brill and a colleague had recently come across a relatively small moth plant in Whangarei that had a number of dead monarchs trapped in its flowers.
The plant was easily recognised by its climbing vine, with paired, oblong leaves and distinctive small, clustered white flowers which developed into gourd-like seed pods.
It also had white, sticky sap.
People keen to get rid of moth plants could remove small infestations by hand, Ms Brill said.
"Seedlings are easy to pull but even large plants can be easily killed by finding the main root and pulling out about 5cm of the root. The plant will wilt within 24 hours and you can see if you have missed any smaller ones."
Large infestations might need to be over-sprayed using specialised herbicide, Ms Brill said.
- APNZ