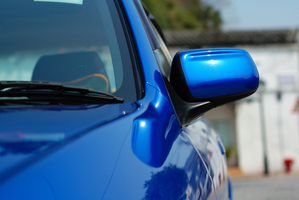 Two brothers from Porirua have stepped up after a 94-year-old man lost his most prized possession - a mint 1977 Mazda 323.
Joel Briggs, 29, from Elsdon, was watching an episode of Campbell Live, and heard of a Matamata local, Hugh Pickering, who had had his car stolen after someone broke into his garage.
Mr Pickering had bought the car, a Mazda 323, brand new in 1977.
Neither Joel nor his brother Joshua have met or spoken to Mr Pickering, but Joel says he was touched by his story.
"I thought it was pretty stink so I jumped on Facebook and started a page for him."
The Facebook page, 'Hugh pickering mazda 323', now has over 1000 likes.
"I wanted to replace the car for him, raise as much money as I can then it's up to him what he does."
So far, the brothers have collected $2500 in donations in a special bank account set up for Mr Pickering.
They also have several Trade Me auctions running, and have been running sausage sizzles to raise more cash.
"I wasn't expecting [it to be] this big. My goal was to raise $2000. That has been blown away."
Sergeant Graham McGurk from Matamata police station has been in charge of the case.
He says the generosity of the brothers is outstanding.
"I really appreciate what they are doing - young people giving something back to someone that has done a lot over the years, I really support it."
Mr McGurk says the community is shocked by the crime, and the culprit must lack morality.
Police have had no shortage of information given, and are in the stage of processing it.
Mr McGurk still hopes the police will be able to return Mr Pickering's car to him.
"I hope whoever did this will give the car up, and give it back."
The brothers will be continuing to raise money for Mr Pickering.
They will travel to Matamata on February 15, where they will present Mr Pickering with a cheque.
If you would like to make a donation, or find links to the Trade Me auctions, head to the 'Hugh Pickering Mazda 323' Facebook page.
- The Porirua News