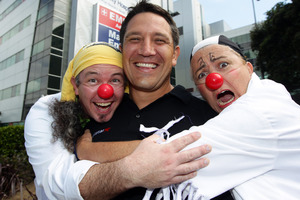 It was smiles all round as clown doctors landed a $30,000 grant from Jetstar.
Clown Doctor New Zealand chief executive Dr Thomas Petschner said the money and air fares couldn't have come at a better time for the charity.
Actors and health professionals are part of a 24-strong troupe that visits hospitals in Auckland, Wellington and Christchurch to cheer up patients.
Jetstar Flying Start judge Steve Price said they had impressed him.