Shed 10's original features revealed as site transformed into cruise ship terminal and events venue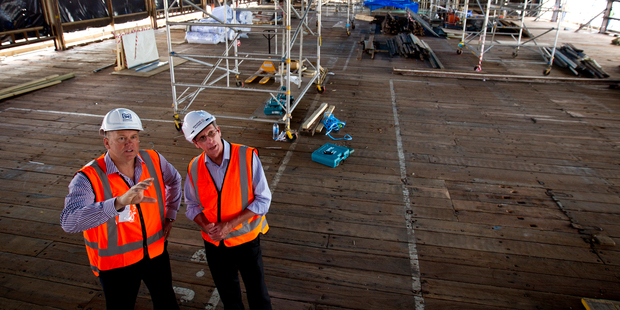 It was built as a cargo shed a century ago and now Shed 10 on Queens Wharf is being refurbished to handle a new cargo of cruise ship passengers.
Soon Aucklanders will have the opportunity to see the "majesty" of Shed 10 as John Smith, the design manager of the project, describes the once nondescript, dowdy building.
An uprising by heritage advocates saw off plans by the Government in 2010 for a $49.2 million new cruise ship terminal on Queens Wharf. City leaders opted to save and restore the cargo shed - a quick tart up for the Rugby World Cup followed by an $18.6 million design for a cruise ship terminal.
The Herald reported yesterday the project may need an extra $10 million to allow the terminal to cope with a new generation of larger cruise ships.
Mr Smith, of Waterfront Auckland, said Aucklanders got a feel for Shed 10 during the world cup, but had not seen upstairs which has been stripped of later additions and brought back to its original scale.
"The timber floors we understand to be matai are really dense, heavy, big scale and they have just come up beautifully. Then you have got these roof trusses which are this beautiful steel, rusty and give a feel the shed has been here for a long time," he said.
Mainzeal project manager Greg Ford said it was a challenging but fun project working on a part of Auckland's heritage where discoveries happened all the time.
These have included 1940s cartoons, and pulling up tongue and groove floorboards to discover the names of merchant companies stencilled on to the original matai beams.
Mainzeal started work last September and the construction company is scheduled to finish in mid-April. Waterfront Auckland is planning a public open day.
At the southern end of Shed 10, a 4.7m by 4.7m bay window is being installed in which a 3m waka carved from puriri will be suspended.
The southern end is being turned into a modern entrance foyer with a staircase and lift to the first floor, designed to complement but not mimic the old.
The design serves dual purposes as a cruise ship terminal and an events space for fashion shows, exhibitions, concerts and functions.
The building has a capacity for 3000 people.
Shed 10
• One of five double-storeyed cargo sheds built on Queens Wharf between 1909 and 1914.
• At 94.5m long and 24.4m wide it is nearly the size of a rugby field.
• Being upgraded as cruise terminal and events centre for $18.6m.