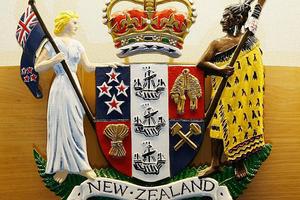 Supporters sobbed as a Rotorua man of "good character" was sent to prison for indecently assaulting a teenager.
Desmond Ward, 34, was sentenced in the Rotorua District Court on Friday to 18 months in prison after he pleaded guilty to indecently assaulting a teenage girl in February 2011.
During sentencing, Ward's lawyer, Moana Dorset, handed Judge Phillip Cooper numerous references and letters of support for the married father-of-two, including one reference from the Waiariki Women's Refuge where he had done voluntary work.
Ms Dorset said that shortly after his interview with a probation officer last year, during which he denied the offending and said he only pleaded guilty to end the matter, Ward had "fronted up" to his church leader and family and accepted responsibility. She said he was extremely remorseful and fully accepted the effect his actions had on the victim.
Judge Cooper noted there had been a large turn-around in Ward's attitude since the probation officer's pre-sentence report and he was willing to accept Ward was genuinely remorseful and a man of otherwise "good character", who was a contributing member of the community.
However, he said the indecent assault was at a high level, stopping just short of unlawful sexual connection and therefore home detention would not be sufficient.
"Serious sexual offending against a young person is something the court and society condemns," he said.
Waiariki Women's Refuge manager Miriama Roberts told The Daily Post Ward was a good worker who had helped them by picking up heavy items donated to the refuge, such as furniture. He was always with another volunteer and never had any contact with women or children at the refuge, she said.
Ms Roberts said that before pleading guilty Ward had voluntarily "detached himself" and said he could no longer carry out the work. "He was sensible enough to give us the heads up," she said.
For more articles from this region, go to Rotorua Daily Post