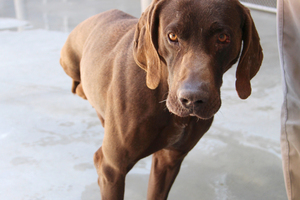 A three-legged dog that became a celebrity after being caught stealing dog roll from a dairy has yet to be claimed from the pound by its owner.
German shorthaired pointer Oscar stole a roll of dog food from the chiller of Alray Dairy in front of shoppers earlier this month.
He then returned to the dairy twice more to try and grab more food but on his third visit was caught by on the shop's security camera and staff and has been in the pound ever since.
Pound staff have been in contact with Oscar's owner but he has yet to come to the pound to claim his food-loving pooch.
Invercargill council manager of environmental health John Youngson hoped the pair would be reunited today, but if not staff would be taking formal action.
"If he doesn't get in touch we'll be serving a notice,'' he said.
The owner would then have seven more days to collect his dog after which pound staff could place Oscar in a new home.
Dogs were usually held for a maximum of seven days and Oscar had already exceeded that by almost a week.
Word of Oscar's escapades has spread, and since his incarceration several people had contacted the pound offering him a home, said Mr Youngson.
- APNZ