Political hard-hitter taking up boxing - just for the exercise, mind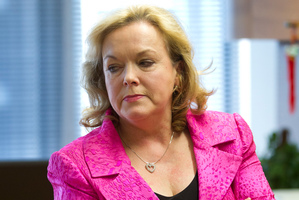 Enemies beware: Judith Collins has taken up boxing.
While lycra-clad Labour luvvie Trevor Mallard cycles the streets, the woman who took him and colleague Andrew Little to court for defamation (the case was settled in November) is practising her upper cuts. And I don't mean acerbic retorts.
Crusher has signed up for boxing training. Maybe now Trev will be a little more wary before bowling a barb her way for fear of a fisticuffs rerun with another Nat MP. The Minister of Justice told the Diary she's enjoying this new sort of sparring.
"It's really fun and good exercise. It's a great workout. My upper cuts are good."
Collins said she decided to take up boxing training when she saw lessons advertised at her local gym. After her first lesson on Wednesday, she's taking another one tomorrow.
"I'm trying to exercise more, you know, and this is a really energetic way of getting fit."
Her boxing trainer has praised her punches. "I think he's just being supportive," she laughed.
Asked if she'd file an ACC claim should she suffer an injury, Collins, who is responsible for the controversial department, chortled: "I'm trying to avoid serious sparring!"
She means in the ring. But she'll admit she's often armed with a verbal lashing. "I'm used to whipping them with my tongue ... they'd better watch out now." she hooted.
"Learning how to punch has been great. It's a very empowering experience for women."
Alas, members of the Opposition may not find her new hobby quite so invigorating.
Another one bites the dust
Mark Jennings must wonder what's going on at the opposition. The long-serving lifer running TV3's news division has seen a revolving door of opponents exit TVNZ, but he didn't expect rival Ross Dagan to jump ship from the network's news and current affairs helm in less than a year.
Dagan, 41, an Aussie from Blackall, is boomeranging back to Brisbane in March to a lower-placed role at Channel Seven. Sources across the Ditch, who say they heard the exit rumours in November, are surprised at the move, saying it's a "backward step" for a "career TV executive".
"He's going from an executive position responsible for more than 15 programmes on multiple channels to being responsible for one. It's an interesting move."
Dagan cites personal reasons for his resignation. Some say he and his wife Michelle, a teacher, have been unhappy here for a while.
Despite the brief tenure, Dagan, a pensive and conservative man, has made an effect at TVNZ, most obviously in the soon-to-be launched primetime show Seven Sharp.
Some critics have labelled it Seven Blunt for its crowded cast of presenters and lightweight delivery of news and current affairs. For a traditional man, the show format is risky. It is a drastic departure from what has gone before. But Close Up was staid and ratings were a far cry their level in early days.
Now with Dagan's exit critics say TVNZ news and current affairs is floundering. Ironically, while the media industry is forced to change and adapt to tighter times, Dagan's detractors are not embracing change at TVNZ so willingly. Viewers - Dagan is counting on - will be different.
But his departure does not inspire confidence. His current affairs editor, Briar McCormack - said to be responsible for Seven Sharp - is expecting to go on maternity leave, another strike against the new show.
Jesse Mulligan, the TV3 import on the Seven Sharp panel, injected some laughter into the crisis. He took to Twitter this week to claim dibs on Dagan's carpark. But Dagan catches the bus each day from his home in Auckland's leafy Parnell.
As to his heir apparent, names are flying thick and fast. Paul Patrick, TVNZ's former editor of daily programmes who followed ex-news boss Anthony Flannery to Network Ten, is tipped as a possible contender. But he's settled in Sydney.
John Gillespie, Patrick's replacement, would be a good internal appointment. He's well-liked but considered conservative.
Richard Sutherland, who left TVNZ last year to take up a role at TV3 as Jennings' understudy, is also tipped. He plays it straight and fair, but is said to have hated TVNZ politics.
Paul Cutler, insiders say, could be persuaded back to head of news - the post he held at TVNZ from 1997 to 2001. Cutler is leaving his role at Australia's SBS network and returning to New Zealand to retire. "He wants to buy a boat and go fishing."
Hiring another Aussie would be questionable. The role may look good on a resume, but TVNZ needs a news boss invested in our industry.
Dagan's a solid guy who will be missed for his reliable and restrained demeanour. He may keep his cards close to his chest but he's always steadfastly backed his team. Let's see that loyalty reciprocated.
The court of Oprah
Lance Armstrong's former personal assistant and bike mechanic, Mike Anderson of Wellington, told Britain's MailOnline this week the disgraced cyclist "should be sitting in front of a judge, not telling all to Oprah".
Anderson said the Oprah mea culpa (airing today on the Discovery Channel) is Armstrong's bid to rescue his crumbling reputation. "He should have his day in court. He's weaseled out of allegations for years. He should be taken down and I hope he takes a lot of other people with him ... frankly I hope he goes to jail."
Anderson's life was made hell by Armstrong after he found boxes of steroids stashed in the bathroom cabinet. Anderson left Texas to make a life in New Zealand. "I was blackballed, ridiculed, defamed and slandered. My credibility and character were questioned. I couldn't get a job. I'll always believe Lance made good on his promise that I would never work in cycling again."