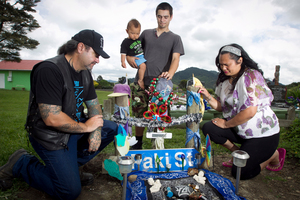 John Watkins does not wish the pain of losing a child on anyone.
That's why he is pleading with families to be safety conscious in the water this summer, after his son, Zharian Watkins, drowned in an accident last year.
The 13-year-old Huntly boy jumped off the town's Tainui Bridge on February 10 into the Waikato River. He landed on a friend and never came up.
Three days later - the same day his mother Vanessa Patea-Watkins gave birth to his little brother - Zharian's body was found.
"She was supposed to have the baby on the day we lost our son. It was a happy and a sad time at the same time because we were expecting and then we lost a child."
Mr Watkins said it had been a long year of healing, during which time the family had moved to Hastings for a fresh start.
"It's devastating. Terrible. It's just ruined me and my wife. It wrecked our marriage at the start.
We're back together now but the pain of losing a child is just unbearable. It's taken us until now to ... [begin to] move on."
Back in Huntly during the Christmas holidays, the family including brothers Tyrone, 22, Kayhne, 16, and Tamatoa, 10 months, visited Zharian's grave behind Taupiri Mountain every day.
Mr Watkins said Maori children in particular were risk-takers and the family struggled at first with apportioning blame.
"There's no one to blame. My son made the decision to go for a swim."
He encouraged people to enjoy the water but urged them to remain vigilant.