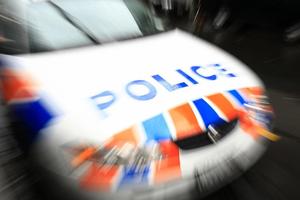 Police cordoned off a Northland house following an alleged assault which left a woman critically injured in hospital.
The woman suffered head injuries following an incident at a Fairway Drive house in Kamo on Friday.
Her injuries were serious enough to prompt an investigation involving CIB and general duty police staff.
The driveway to the woman's home was taped off during the police inquiry over the weekend.
Officers questioned neighbours and a police photographer was on the scene on Sunday.
Phillip Andre Mahanga, 32, unemployed, has been charged with assaulting the woman on Friday night.
He is also facing a charge of breaching bail.
Mahanga was denied name suppression at a court hearing about 4.30pm yesterday, after he had appeared in the court earlier in the day.
At the morning appearance, there was standing room only in the public gallery and four police officers provided extra security when Mahanga briefly appeared before Judge Duncan Harvey.
Defence lawyer Melissa Russell had asked for her client to be called back at the earliest opportunity to lodge a bail application and Judge Harvey had remanded Mahanga in custody without plea until January 21 on the assault charge.
The judge also remanded him until February 19 on the breach of bail charge, which involves issues that allegedly took place before Friday.
However, Ms Russell was back in court yesterday afternoon asking for name suppression for Mahanga, who could face further charges should the condition of the injured woman deteriorate.
Judge Harvey declined her application because the reasons given in support of the request were not valid.
Ms Russell had said Mahanga needed time to talk to his family and that the victim's family also wished to be heard in relation to the application.
Whangarei Hospital said late yesterday that the injured woman's condition was critical.
For more articles from this region, go to Northern Advocate