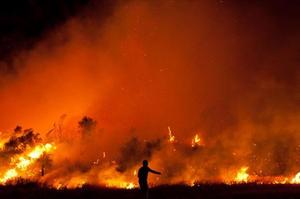 Strong winds are fanning a bushfire in Waikato this evening where a helicopter will help firefighters to extinguish the blaze.
About 50 hectares of land at Whangamarino was burning about 6.30pm, a spokesman for the fire service's northern communications said.
He said it was unclear what had started the fire.
Fire crews were monitoring the blaze while a helicopter was on its way to dump water from above, he said.
The Department of Conservation is involved in trying to maintain the fire.
Firefighters are confident the blaze will be brought under control tonight.
- APNZ