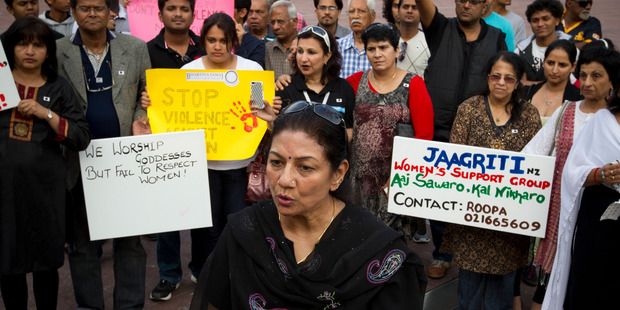 Dozens of people gathered at a small and poignant memorial service in Auckland to remember an Indian woman who died after a vicious gang rape attack that has shocked the world.
Members of the Auckland Indian community gathered at Aotea Square last night to pay tribute to the 23-year-old medical student, who died in hospital from injuries she suffered in the December 16 attack.
Prayers were said and a two-minute silence was observed. A number of people held up signs calling for an end to violence against women.
One said: "Today it was her. Tomorrow it could be your mother, daughter or sister."
The attack has been described by the world's media as "vicious" and "savage".
It has brought on dozens of riots and protests around India, with people calling on authorities and the country's leaders to provide better protection for women.
The woman - who has not been named - was with her boyfriend when they were lured on to a bus in New Delhi, thinking it was ordinary public transport. They were attacked by six men who savagely beat the pair and repeatedly raped the woman and sexually assaulted her with an ironrod.
The couple, who were due to marry next month, were then stripped of their clothes and dumped on the side of the road.
The Auckland event was organised by the Jaagriti women's support group and Bhartya Samaj Charitable Trust - both Auckland-based groups aimed at helping the local Indian community.
Jeet Suchdev, chairman of Bhartya Samaj, said the attack had deeply affected the Indian community in New Zealand.
"No matter how far we live, we still have those connections. It is a very sad situation and we would like to pay tribute and homage to this poor soul.
"We would like to support and encourage all women who go through such issues to speak up."
Aucklander Diksha Vohra said the attack was still a shock for her as a young Indian woman.
"It's completely shocking to know that something like this can happen in India. We have to be post-active, not pro-active. We have to make sure women are protected, so that this never happens again."
The Indian community here was not immune to violence against women, Mr Suchdev said, with several dowry abuse and blackmail cases reported each year.
"There's a large Indian community here ... we work to help those women and to support and encourage them."