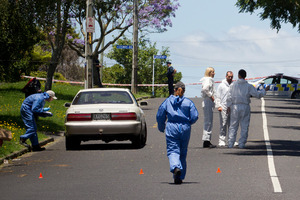 The 27-year-old man who died a "violent death'' in Auckland early on New Year's Day has been identified as Papatoetoe resident Nathan Albert.
A homicide investigation was launched after a woman found Mr Albert's body on the street in Panmure's Pilkington Road shortly after 4am and phoned police.
A post mortem examination concluded he had died a violent death, Detective Inspector Mark Benefield told Radio New Zealand.
Police this evening said a man known to Mr Albert had contacted police, and he was assisting them with the investigation.
"It is too early to say what the outcome of the discussions with this man will be,'' Mr Benefield said.
Mr Benefield confirmed that a weapon was used in the incident, which had not yet been found.
The victim had recently lived in Papatoetoe, South Auckland, police believe and it was expected his name would be released today.
A woman phoned police about 4am yesterday after finding the man on the street.
"We have spoken to a woman ... who initially saw the deceased and went to his assistance, but he was deceased at the time," Mr Benefield said.
Several New Year's Eve parties took place on the street that evening, but it was unclear whether the 27-year old had attended any of them, he said.
"We're doing an area canvas [and] speaking to neighbours and members of the public."
Pilkington street resident Daniel Taorei told APNZ he was woken by shouting about 4am.
"I looked out the window and saw a fella walk across the road and just collapse."
The people who live in the house outside where the body was found were away, Mr Taorei said.
"It's usually a quiet street. Nothing like this has really happened here."
- APNZ