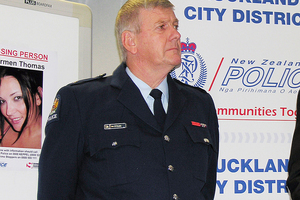 New signs marking dangerous swimming spots on Rarotonga are to be put up following the death of the wife of New Zealand's longest-serving policeman.
Friends, family and colleagues of Chief Inspector John Palmer gathered to farewell his wife, Judith Lorraine Palmer, at St Peter's Anglican Church on Auckland's North Shore today.
Mrs Palmer, known as Judy, drowned in a lagoon at Vaimaanga the day before her daughter planned to marry partner Rhys Woodger last week. Close family friend Robert Groves died trying to save her.
Speakers at her ceremony, which was attended by about 250 people, included Police Commissioner Peter Marshall, her daughter Vanessa and brother-in-law Robert Palmer.
Robert Palmer performed the eulogy and read a statement from his brother recalling the couple's 42 years of marriage.
Through numerous mortgages, the birth of two children and death of their late son Grant, the pair had remained committed to each other and their respective careers.
Mrs Palmer, 62, originally from Winton, worked as a nurse for most of her adult life - taking a brief break to raise the couple's two children.
Her husband's statement included early memories of the couple's courting days and drew a few wry smiles from mourners.
The statement also revealed Mr Palmer had met his wife when she seeing someone else.
"I quickly realised Judy was the girl for me,'' the statement read.
"It wasn't long before she severed that relationship and we began seeing each rather regularly.''
Robert Palmer also told mourners that New Zealand's High Commissioner to the Cook Islands, John Grant, had confirmed warning signs around the lagoon where Mrs Palmer and Mr Groves drowned would "be in place by Christmas Day.''
"There were no warning signs in that area,'' Robert Palmer told the church.
Although posts remained, Robert Palmer said the "signs [were] long gone - possibly up to three years earlier''.
He said Mr Grant confirmed in an email that new signs and extra search and rescue equipment and support would be made available at the site where Mrs Palmer drowned and other dangerous swimming spots on the island.
Her daughter Vanessa spoke of her decision to marry partner Mr Woodger in a small ceremony after returning to New Zealand for the funeral.
It would have been what she wanted, Mrs Woodger said.
"I know she was there in spirit.''
Through tears, she said: "Mum fought for her life to the bitter end and I will too.''
Police Commissioner Peter Marshall also spoke at the funeral.
He credited Mrs Palmer for providing love and support to her husband and his colleague throughout his 47 years with the police.
- APNZ