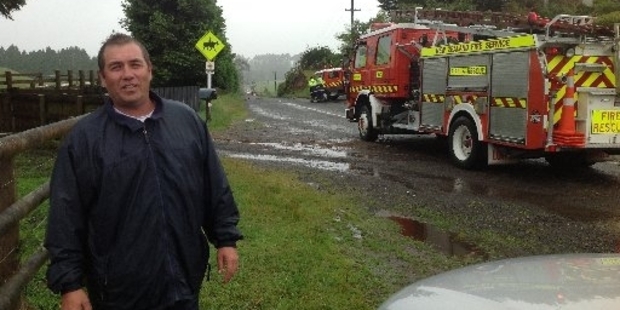 Stories making headlines across New Zealand at noon include a man who lived to tell the terrifying tale of being sucked into a tornado, Christmas vandals are at it again in Tauranga and a Far North town has put a Yuletide call out to Kim Dotcom.
Chris Heywood was off the ground and spinning in circles as he watched his black truck also doing 360s in the air before closing his eyes and the next thing he was 61 metres away on top of one of his trembling horses.
Here's a photo gallery of the tornado which touched down in the Rotorua region. The killer storm also passed through Tauranga.
Shane Spalding did it for the community and the kids, but severed wires, missing reindeer and empty spaces now plague his front garden.
Kim Dotcom, who has also called himself Kim Schmitz, His Royal Highness King Kimble the First and Kim Tim Jim Vestor may also soon be known as Santa of Kaitaia.
National skiing representative Samuel Owen Weenink won't be going anywhere near the snow for at least 12 years.
Two Czech Republic nationals ran for their lives yesterday morning after they were allegedly confronted by a man armed with a rifle.
Meanwhile a Rotorua man jailed for life for the brutal murder of Polish tourist Roman Skorek has apparently been forever scarred by the killing.
The world's largest man-made floating wetland has slipped its moorings.
Up to 50 workers and contractors at Carter Holt Harvey's Rotorua Profiles plant have been thrown a lifeline.
There is apparently light at the end of the tunnel for Hamilton's restricted supply of sections.
A woman is in Tauranga Hospital with serious head injuries after being hit by a car.
Hundreds of young performers took to the stage for thein the 20th annual Ra Whakangahau kapa haka festival.
Another North American company has been granted a permit to look for oil and gas at the East Coast Basin.
Rustlers are on the prowl in Waipukurau.
In Gisborne, a jury has found Patricia Erica Paton guilty of the manslaughter of her partner on Valentines Day.
Here's a video about the last train from Wairoa.
Meanwhile the mana of Whanganui iwi has apparently finally been restored.
The theft of $5000 worth of personal belongings and cash from a group of Italian tourists while they were eating dinner at a Marae at Jerusalem still has police stumped.
A unique de Havilland Mosquito fighter bomber is expected to swoop over Wairarapa in January.
Artist Konstatin Dimopoulos knows from the variety of reactions he has recieved to his $40,000 sculpture made up of yellow steel rods between six and eight metres high that he cannot please everyone. Meanwhile burglars have struck a Wairarapa scrap metal firm in an early morning raid.
What is hot this Christmas?
A woman travelling through a 50km/h road work site near Cheviot was checked overtaking another vehicle at 129km/h.
Meanwhile with police in hot pursuit a Dunedin teenager allegedly drove a stolen a plumber's van into a power pole, got it stuck in a ditch and drove through a red light at speed.
A temporary ban on one of the ingredients of synthetic cannabis product K2 has taken effect but it hasn't made any difference apparently and it remains for sale in Dunedin.
The design of a $100 million hotel proposed for Dunedin's waterfront has been labelled ''plop architecture''.
There's been a spike in the number of University of Otago students seeking food parcels.
Not all the missing Queenstown mail may make it through as police hold hundreds of opened items of mail as evidence.
Frankton woman Margaret Forbes is 91 and a creature of habit.
Meanwhile in Naish Park in Balclutha a teenager was wandering around with a machete.
And if you go to Oamaru, you'd better lock your car.
After the biggest-ever collection of items for the annual Toot for Tucker collection, criminals moved in to loot the Oamaru Foodbank.
Over on the West Coast, at an out-of-control party a woman was violently assaulted.
Meanwhile opponents of the new sewerage treatment plant are buoyed by a ruling that they must prove the 'biological trickling filter' tank is causing a big stink.
The West Coast Treetop Walk will have its grand opening next week.
Top trending topics on Twitter in NZ at noon were: #powershift, Auckland, Christmas, Xmas, iTunes, New Zealand, Australia, Facebook, Twitter and Spotify.