A crowd gathered in Beach Haven 24 years ago to watch this timeless image being taken.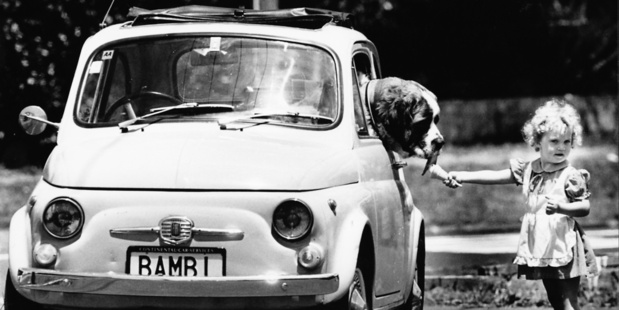 They huffed and they puffed ... and they squeezed that big dog into that little car. And then they gave the dog 12 icecreams.
That's how Nikky Kristoffersen remembers the scene when her tiny daughter Lydia was photographed sharing an icecream with St Bernard dog Chelsea, borroweNew Zealand Heraldd from the owners of a nearby petrol station and sitting inside a photographer's Fiat Bambina.
Lydia, aged 2 when the photo was taken outside her Beach Haven creche 24 years ago, can't remember the photoshoot. But her mum remembers it as a special, at times hilarious, event.
The fun started when redheaded photographer Sheena Haywood and a crowd who had gathered to watch the drama tried to get Chelsea into the car, Kristoffersen said.
"I wasn't involved in that. I left it to a very capable redhead and a few others.
There were a lot of people huffing and puffing, but they got her in there."
Then came the icecream, bought from a neighbouring dairy. And then another. And another.
In all, 12 dripping icecreams were held out to Chelsea's waiting tongue before the photographer was happy with the shot, Kristoffersen said.
"It was a very hot day and a St Bernard can take an ice cream in one lick. The people who owned the dairy must've thought they'd died and gone to heaven. I remember I had to take Lydia home and wash her because the icecreams had gone all down her arms."
None of the icecream ended up in Lydia's mouth but the tot, who now works for an insurance company, took it in her stride, her mum said.
"She was a good little girl and I think she enjoyed having her picture taken. It was quite a lovely little experience and there's a wonderful resonance to the photo. I take my hat off to the photographer."
The photo caused quite the stir in the Beach Haven community where the family lived. The response was all positive except for one man, who scolded Kristoffersen for letting her daughter feed an icecream to a dog.
"He said to me: 'What sort of mother are you? It's so unhygienic."'
But others could see its potential and the photo has been re-published several times since, she says. "That photo has taken on a life of its own, it keeps rearing its head up from the past. It's just amazing."