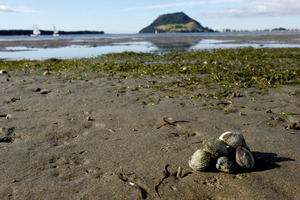 The public are being warned not to collect or eat any shellfish from areas of the Northland coast found to have high levels of toxins.
The Northland District Health Board Protection Unit issued the warning today after the presence of Paralytic Shellfish Poisoning (PSP) toxins above the regulatory level were found in shellfish at the Kaipara Harbour entrance.
The notice also relates to the coastline north to Maunganui Bluff.
"Anyone eating these toxic shellfish is potentially at risk of illness" said Dr Clair Mills, medical officer of health.
"Cooking shellfish does not remove the toxin."
People are being advised to avoid kina, mussels, pipis, tuatua, toheroa, oysters, cockles and scallops in the affected areas.
Symptoms of PSP poisoning usually come about around 12 hours after eating affected shellfish.
These include numbness and tingling around the mouth and face, dizziness and difficulties with swallowing or breathing.
In severe cases, PSP can cause paralysis and respiratory failure.
- nzherald.co.nz