Peter Williams is one of this country's toughest defence lawyers. But today he prefers to be known as an author, poet, sailor and prison reformer.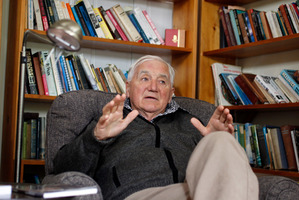 There are some terribly overused cliches applied to people with cancer: cancer sufferer, battle with cancer, fight against cancer. Yet somehow, they seem to describe how Peter Williams, QC, feels about it. He has suffered but he is fighting.
The white-haired lawyer looks well for 78, although he has been going through radiation therapy for prostate cancer.
The Queen's Counsel is one of New Zealand's most respected legal minds and prison reform campaigner. And he has never been battle-shy, having fought for his clients in the courtroom for 60 years, and campaigned for prisoner rights.
His partner, defence lawyer Heeni Phillips, answers the door of their modest white weatherboard home in a leafy Ponsonby Street. Smart, younger and attractive, Phillips ushers us into a small book-lined study. Dressed in casual clothes, Williams' demeanour is far from that of the fearsome defence lawyer in wig and gown.
Nowadays, he says, he lives a simple but busy life with Heeni and their two dogs, Kafka and Araki.
The couple share many interests: sport, penal reform and defending those whom others might shun. They have worked on many criminal cases together.
Williams is quick-witted and laughs easily, despite talking about things that might cause many of us to shudder.
He was diagnosed with malignant prostate cancer in 2003. Prostate cancer is measured using PSA which in a healthy person is about five. Williams' PSA was 12. His doctor recommended brachytherapy, in which radioactive seeds are implanted in the prostate gland. He suffered harsh side-effects. "Within a very short time I had to use a catheter. I had to use that for quite a long time and it was very painful and exacerbating. But after that things seemed to be okay ... but then a couple of years ago the cancer re-emerged.
"The doctors put me on hormone tablets to attack the testosterone which feeds cancer, so the idea is that if you get rid of the testosterone the cancer diminishes. After that my PSA came down but then started to go up again."
"I have had two lots of radiation at Mercy Hospital. One mid-last year and one just five weeks ago. Administration is painless - the after-effects are extreme tiredness, also nausea and feeling very uncomfortable. All you want to do is sleep. You've got to labour on. Having coffee with friends and keep involved in what's going on." Williams wants to write another book, this time called Cut it Out, about his experience with cancer because he now wishes the prostate had been removed.
"Unfortunately, there is no cure for cancer. It's an epidemic and I've seen people in the waiting room as young as 30.
"There are so many books out there about how you can cure cancer by eating the right foods but they can be dangerous, too. I know people who lived on carrots but it didn't make any difference."
He says New Zealand needs a register of cancer patients which includes their treatment, medication, outcomes, test results and diet to inform researchers and help patients make informed decisions.
Although covered by insurance, he has had to spend a lot of money on medication which is not covered, such as calcium injections at $1000 each.
"I am determined and not doing too bad. I swim every morning at the Tepid Baths. I did 20 laps of the pool this morning on my back with my flippers. I have lost some strength in my legs. You do your best," he laughs.
"I just keep going. I'm active. I work in the mornings. I retired a couple of years ago but I still work on cases in Fiji. I have formed attachments to those people. The prisoners depend on me for their mail."
Williams won't stop working. At present he is defending former Fiji MP Dr Mere Samisoni and three others. Samisoni, a 74-year-old grandmother in regime custody, is charged with trying to overthrow Prime Minister Voreqe Bainimarama. Williams also acted for New Zealand millionaire businessman Ballu Khan who, after a long court case, was acquitted of five counts of conspiracy to murder the interim Prime Minister, two cabinet ministers and senior military personnel.
Over the years, through his work as a defence lawyer, Williams became very close to his clients - some household names for all the wrong reasons.
He shows off paintings by people he has defended. One is a portrait of Williams by Bassett Rd machinegun murderer Ron Jorgensen.
Another is a painting of a sailboat by Terry Clark, who was known as Mr Asia. Williams defended Clark when he was acquitted of drug charges in the mid-70s.
Williams has lost count of how many murder trials he conducted in his career but estimates it could be between 100 and 200.
He pioneered the use of automatism in New Zealand murder trials, a phenomenon he believes in strongly. "It is used as a defence when the person has acted in an involuntary manner without any conscious awareness of their actions," he says. "It is not used enough and is not fully understood. Stress is a catalyst. It can happen to anyone. There's a breaking point in all of us."
Williams says he wants to stand up for some of society's most isolated people, and he is still working on penal reform through the Prison Reform Society.
"I am concerned about how some prisoners live in 23-hour lock-up," he says. "It's bizarre. I want to bring about change for long-term prisoners. If they don't have a mental illness before they go to prison they get one while they are in there. It does not encourage rehabilitation. I would love them to be treated like human beings."
He set up the Prison Reform Society last year after resigning from the Howard League. The Howard League is now being run by businessman Tony Gibbs and former Labour Party president Mike Williams.
"I was receiving radiation treatment and very ill at the time. Mike Williams presented to the League a new constitution, which he told members was needed in order to obtain charitable status," Williams says. "A week or so after this meeting the league received notice that Mr Mike Williams was now CEO of the league and was to receive a financial package. I was given a document to sign whereby the league would borrow money from Mr Gibbs' family trust, so that there would be sufficient cash to pay Mike Williams during the interim period before the donations from the corporations would roll in, at which time the Gibbs family money would be repaid.
"I refused to sign this document and subsequently resigned from the league, as did all of the other long-standing members, and we set up the Prison Reform."
Standing up for the rights of murderers and sex offenders is never a popular position, and Williams' pronouncements on behalf of the Howard League always grabbed the headlines.
Yet his departure barely caused a ripple.
Mike Williams says the league needed to become a more professional body in order to raise money for programmes in prison. "Tony Gibbs is a very astute businessman and a very proactive person. Since he became our patron we have become a small professional unit," says Mike Williams.
Peter Williams believes he inherited his compassion for people from his father, Cecil, who was a teacher in Feilding, although it seems he spent many of his early years playing sports. He played rugby for Manawatu and boxed for Canterbury University. Later, he won the New Zealand tennis title with the Auckland Veterans.
Williams began his law degree in Victoria University and worked at a freezing works to pay for his education.
"It was quite unpleasant smelly work but I was able to get enough money to go to university," he says. "My father transferred to be a headmaster in Sumner so I went to Canterbury University, which was more social. I had more fun there."
He served his mandatory three months' military service with the Air Force in Hobsonville, before beginning his legal career as a clerk at the Justice Department in Auckland, earning £7 10s a week.
"The Justice Department took care of me," he recalls. "I worked in the Magistrate's Court, the Supreme Court and Land and Deeds and was able to continue my education at Auckland University College."
It was while he was working at private law firm Russell McVeagh that he met his first wife, Zelda. She opened the door of her grandmother's boarding house to Williams when he was looking for somewhere to live - and within a week they were married. "She was an absolutely beautiful girl. I think she saw me as having good prospects because I was working in law and she was very ambitious," he says.
"I would have stayed at Russell McVeagh but she encouraged me to open my own practice and she was my typist." He did not earn much money at first, picking up a "fiver or a tenner here or there" acting for people in the Magistrates Court. His work became his life, conducting up to three jury trials a week. "For the next 50 years I did a lot of work. I found it stimulating and time-consuming. I regret not spending more time at the theatre and things like that. After his marriage to Zelda broke down, he had a series of relationships with beautiful women.
Pianist Catherine Keith is the mother of his daughter Kara. His second wife was ballerina Patricia O'Connor, the mother of his two other children, Katie and Durrell.
After Patricia joined a religious sect, the couple separated and he took custody of Katie and Durrell. "Bringing up children is one of the most wonderful things that a person can do in this life. Looking back I wish I had spent more time with them growing up."
He has five grandchildren and now lives with Phillips, "a highly intelligent and very attractive woman".
Together, they have won some high-profile legal battles. Today, asked how long they have been together, Williams calls Heeni in to ask her. "About 20 years," she says as she peeps around the door.
Williams smiles at her with affection: "She looks after me well."
Phillips gets nervous every time Williams goes out on his beloved yacht.
His son Durrell, a professional sailor, has just talked him into buying a launch and they motored from Wellington to Auckland a couple of weeks ago.
"I like yachts," Williams says. "I love the pull of the sea so I'm not convinced."
He is thankful for his family's support as more scans reveal his prostate cancer has spread to his spine and to nodules in his stomach.
He will perhaps complete another round of radiation therapy, and is also continuously researching new treatment options and various new drugs that can be obtained.
The progression of the cancer in his bones is still in the early stages, and he says he chooses to go with the more optimistic of his doctors' prognoses. And that means getting on with business.
"You've got to be proactive," he says.
"You can't wait around."
Famous high-profile cases
1 In 1978 Williams defended Terry Clark, who had been nabbed at Wellington Airport, allegedly importing heroin. He was acquitted after Williams exposed flaws in the Crown's case. Clark, aka Mr Asia, went on to head a multi-million dollar criminal gang and was convicted of murder.
2 Ron Jorgensen and John Gillies were arrested for the December 7, 1963, machinegun murders of two men at 115 Bassett Rd, Remuera. The victims were well known in the Auckland underworld and the murder was over gambling debts. The two were convicted and jailed for life; Jorgensen served 12 years and along the way became a celebrated artist.
3 Williams is a long time friend of Winston Peters; Williams' partner Heeni Phillips ran for NZ First in the election. He represented Peters when he was under investigation by the Serious Fraud Office and Parliament's privileges committee over his handling of a $100,000 political donation from Owen Glenn. The privileges committee censured Peters; the SFO laid no charges.
4 Williams acted for Arthur Allan Thomas, who was accused of the Crewe murders. Thomas was pardoned and received compensation of more than $1 million after Williams represented him at the Royal Commission.
5 Zion King, 49, was charged with murdering Chattrice Maihi-Carroll, 46, who was found naked and with stab wounds in January 2008. After investigating the case independently, Williams applied successfully to the High Court at Napier to dismiss the charge. Crown prosecutor Russell Collins conceded the case against King was not strong enough to go before a jury.