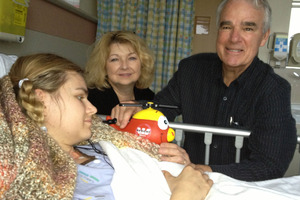 Waitomo crash survivor Kirsten Steinke is on her way home to Colorado after a month in hospital following the crash that killed her husband.
She departed from Hamilton International Airport this morning with her mother Gerri.
In a statement, her father Jim Steinke thanks "all of the people that have prayed and energised her spirit to enable this day to happen''.
He described his daughter's recovery from the crash as "miraculous".
Mr Steinke also praised Waikato Hospital staff, the New Zealand media and the work of first response teams, saying the family and its network would continue to support them in appreciation for the help given to his daughter.
"Equipment like the helicopter and first response teams do not have an infinite life. Our network will commit to support this effort,'' he said.
He said his only child was improving faster than predicted from the September 20 crash at the intersection of State Highway 3 and Waitomo Caves Rd.
Ms Steinke and Mr Stithem, 31, were on their honeymoon when their car collided with a cement truck at the intersection.
Police said Mr Stithem failed to give way at the intersection. A Canadian tourist was also killed there this year.