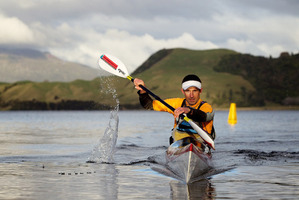 North Island towns are in the Australian spotlight after the recent launch of a tourism promotion which aims to attract Australians for summer holidays.
Images of Rotorua feature prominently in Sydney, Brisbane and Melbourne after the Rotorua District Council's Destination Rotorua Marketing team bought into a joint venture promotion with Tourism New Zealand and other central and upper North Island tourism organisations.
Destination Rotorua Marketing trade marketing co-ordinator Jenha White said Australians couldn't help but glimpse numerous images of Rotorua at the moment, with the campaign, launched mid-September, now in full swing.
Miss White said some of the North Island's best "hidden gems" were being promoted to Australians, telling them the North Island had a lot to explore.
"All commuters passing through Sydney's Town Hall train station will be unable to miss a range of unique experiences displayed in all visible walkways, including escalators, platforms and at main entrances and exits.
This includes bubbling Te Puia mud pools on the floor, geyser billboards, as well as Maori carvings on pillars throughout the station."
An image of a waka with Maori warriors on Lake Okareka and a white water rafting image of the Kaituna River also feature on bus exteriors and on trams in Sydney, Brisbane and Melbourne.
"A key partner of the campaign, Qantas, has taken a unique approach at Sydney Domestic Airport, creating a Qantas travellator with images inside it, including Rotorua imagery of geothermal activity, spas and Maori culture."
Campaign ads also appear in print advertisements, online banners and on newzealand.com.
Destination Rotorua marketing and communications manager Kelly Stewart said the campaign was really bold, creating a lot of public interest and awareness of Rotorua as a destination. She said the council had invested $60,000 into the venture.
"The campaign is really effective in grabbing people's attention as they commute day to day ... where they are literally walking over bubbling mud pool imagery on the floor and past Maori carvings," she said.
"If they then jump on a bus, there's Rotorua again all over the side panels and at the Sydney Airport a tunnel travellator surrounds them by what the North Island has to offer.
Famously Rotorua is a partnership between Destination Rotorua Marketing and APN, the parent company which owns The Daily Post and The New Zealand Herald.
The campaign was launched in Auckland at the end of September with the delivery of 48,000 full colour, 56-page tourism guides to target Herald subscribers in the wealthier suburbs of Auckland.
Mrs Stewart said the Australian campaign aims to grow holiday arrivals into the North Island during the campaign period, as well as increase the length of stays and the number of regions visited.
Australia was New Zealand's largest international visitor market, with 1.17 million visitors in the year ending July 2012. It is also Rotorua's largest international visitor market, with 250,000 visitors a year.
For more articles from this region, go to Rotorua Daily Post