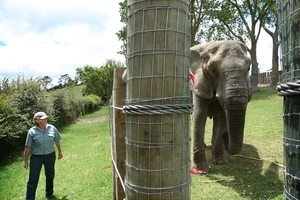 The vet killed by the elephant she cared for and loved, has received a posthumous award from a prominent animal welfare organisation.
The New Zealand Companion Animal Council awarded Helen Schofield its 2012 Assisi Awards, at a dinner in Wellington last night.
The 42-year-old was killed in April when Mila the elephant, also known as Jumbo, crushed her to death at Auckland's Franklin Zoo.
Council spokesman and SPCA executive director Bob Kerridge said the awards honour people who make a real difference in animals' lives.
He said Ms Schofield cared passionately about animals and dedicated to saving exotic animals including those like Mila, who had been rescued from circuses.